As women age, it's very common for them to step back and review their clothing choices and hairstyles. Here are the best hairstyles for older women who are in this phase of selection.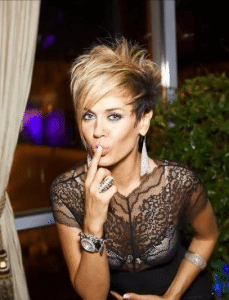 Many older women are loathe to part with their long hair, and they don't have to, however, it's important to consider drawing the hair back more away from the face. Hair that is in the face or too casual looking may make a woman appear older than she actually is.
The best bet is to choose hairstyles that will keep the hair off of the forehead (nicely trimmed bangs are fine) or parted to the side a bit more so that the face is visible.
Allowing the hair to go to its natural silver state is acceptable as long as it's well taken care of. For those women who choose not to allow their hair to go silver or grey, choose lighter colors of hair dye such as medium to light browns, blond shades that aren't platinum or too brassy.
Focusing on hair that is easy to care for and can be made into an elegant hairstyle is preferential over loose waves that may make a woman appear to be older.
Women who have fine hair will be better able to go with shorter hairstyles. Women who have thicker hair will want to choose a medium to a longer length as shorter hairstyles will make their hair poof out more.
Thicker hair should also be layered to add some depth and subtleness to the hairstyle. There's no reason to stick to straight hair parted in the middle, this look is dated and will add years to a woman's appearance when it's chosen.
Focus on easy to do hairstyles that are basically washed and wear. There are a wide variety of styles out there that are pretty easy to do when focused on such easy to care locks.
Subtle highlights will add some dimension and depth to the style and help people to focus more on how brilliant the hair is vs how aged the woman is. The more lovely the hair, the more likely it is that someone isn't going to guess the woman's age.
Choppy layers or even simply layers will add a great deal of texture and dimension to the cut. Couple this with some perfectly placed highlights and the woman will appear to be many years younger than her true age.
As women age and decide to go with the flow, it should be encouraged to allow the hair to age as well. A woman who is in her 50s and still wearing hair that is long and parted in the middle will add years to her looks.
A good haircut is easy to afford in this day and age and it doesn't cost a fortune to choose a hairstyle that will make a woman in her 50s appear years younger. Choose layers and dimension over the length and it will remove years from the looks. These are the best hairstyles for older women.