Do you have thin hair? Are you tired of struggling to find the best womens hairstyles for fine hair? Look no further! In this article, we will explore the best haircuts for women specifically designed to enhance and flatter fine hair.
Whether you prefer a short and sassy pixie cut or a chic bob, we've got you covered. Want to add some extra volume to your head of hair? Layered haircuts are the way to go.
For those who crave a more edgy look, why not try out a short shaggy hairstyle? These styles will take your flat hair and your limp hair and transform it into a head of voluminous hair with natural waves to them.
If medium length is more your style, we have some stunning options that will make your fine hair look fabulous. And if you've always dreamed of rocking beachy waves, don't worry – there's a style for that too!
We'll also share tips on how to add texture, volume, and a little extra thickness using the right hair products. Get ready to transform your fine hair into a head-turning masterpiece!
Pixie Cut for Fine Hair
If you have fine hair, a pixie cut can be a sophisticated and stylish choice for you. This popular haircut is perfect for adding volume and texture to thinner hair. The key to achieving the perfect pixie cut is the right layering technique.
By incorporating choppy layers throughout your curly hair, you can give an effortless and chic look to your soft curls. Adding bangs to this shorter haircut can also help frame your face and give your hairstyle a modern twist.
One of the best things about a pixie hairstyle is that it is one of the best short haircuts for fine hair. And it requires minimal effort to style. With just a few quick swipes of your fingers, you can achieve a tousled and carefree look.
This low-maintenance hairstyle is perfect for women who want to look put together without spending hours in front of the mirror. And the best part is that you won't have to spend gobs on a celebrity hairstylist either. Just a handy blow dryer should do the trick.
Now let's transition into talking about bob hairstyles for fine hair. Bob for fine haircuts is another great option if you have thin or fine hair. Stay tuned to discover how this versatile hairstyle can transform your locks into something fabulous and full of life!
Source: (glam.com)
Bob Hairstyles for Fine Hair
Your particular facial features might be best served with a chic bob that adds volume and dimension to your delicate strands. A copper hair, bob haircut is perfect for fine hair as they create the illusion of volume and thicker hair that provides a stylish look.
A blunt bob is a popular choice for fine hair as it gives the appearance of fuller locks. The sharp cut at the ends creates a clean and polished look, making your hair appear thicker than it actually is.
Another option for bob hairstyles for fine hair is to incorporate face-framing layers. These layers add movement and texture to your hair, giving it more body and volume.
By adding layers around your face, you can draw attention away from the thinness of your hair and create a flattering frame for your features.
To further enhance the volume of your bob hairstyle, consider adding a root lift or fringe. A root lift will give your roots an extra boost, creating height at the crown of your head. A fringe can also help to camouflage any thin areas around the front of your face.
Next up, we'll explore layered haircuts for added volume without compromising on style.
Source: (elle.com)
Layered Haircuts for Added Volume
Opting for layered haircuts can effortlessly add volume and depth to your tresses, allowing you to achieve a voluminous and stylish look. For women with finer hair texture who crave that extra boost of volume, minimal layering is a game-changing hairstyle for thin hair.
By strategically cutting different mid-lengths throughout your hair, layering creates movement and texture, giving the illusion of thicker locks. Not only does it add dimension, but it also helps prevent your hair from falling flat.
Layered hairstyles are incredibly versatile and can be tailored to suit any face shape or personal style. Whether you prefer long cascading layers or shorter choppy ones, there's a layered haircut out there that will enhance your natural beauty.
Additionally, these haircuts work well with various styling techniques such as curling or teasing to further amplify the volume. Also, adding in a little adventurous color or subtle highlights will really enhance this trendy haircut.
When it comes to maintaining your layered haircut, regular trims are essential to keep the layers looking fresh and prevent them from losing their shape. Using lightweight volumizing products can also provide an extra lift at the roots, making your fine hair appear fuller.
Transitioning into the subsequent section about 'short shaggy hairstyles for fine hair,' remember that exploring different styles is key to finding what suits you best without compromising on volume.
Short Shaggy Hairstyles for Fine Hair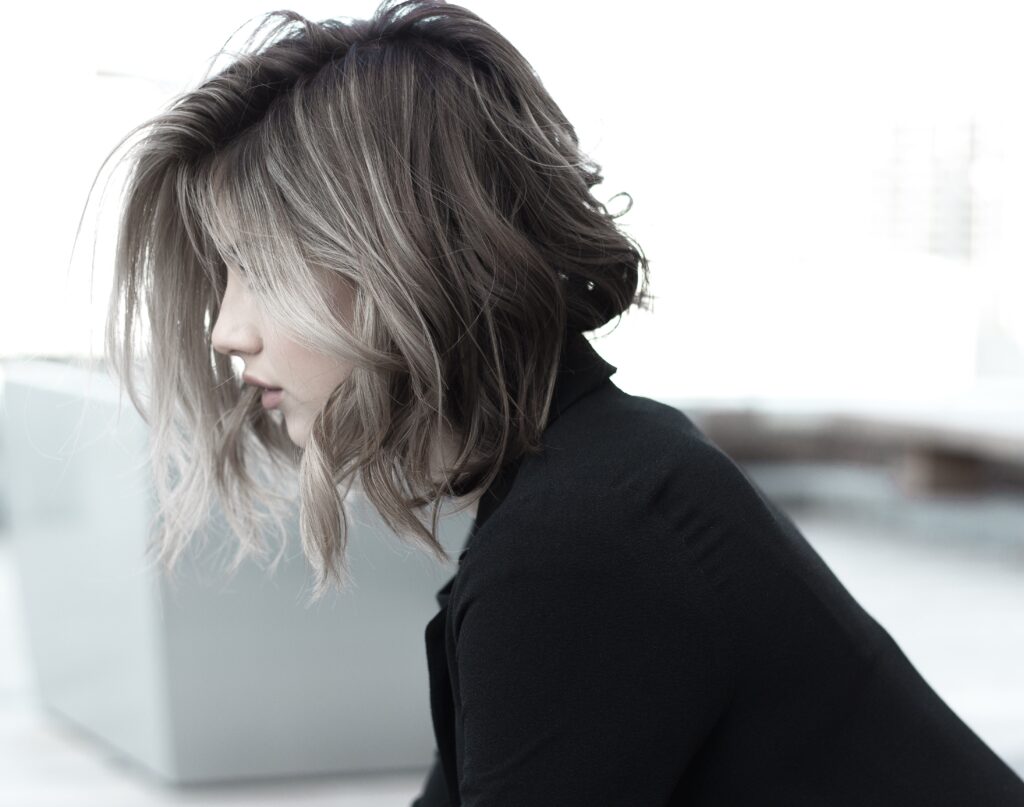 Embrace your strands' delicate nature with a short shaggy haircut. This classic style is designed to enhance your hair's texture and create an effortlessly chic look. Whether you have straight or wavy hair, a short shaggy hairstyle is perfect for adding volume and shape to fine locks.
Here are five reasons why it is ideal for you:
The illusion of thickness: The shaggy layers in this short haircut create an illusion of thicker hair, making it appear fuller and more voluminous.
Emphasize your curls or waves: If you have blonde fine hair, natural curls, or waves, this flattering haircut will bring out their beauty and give them a definition.
Easy to maintain: With its shorter length, this haircut requires less time and effort to style. Just blow-dry or tousle with your fingers for a carefree look.
Enhance your natural texture: Fine hair doesn't usually have lots of texture, but the choppy layers in a shaggy cut add movement and dimension, giving your locks that desired texturized effect.
Versatile and trendy: Short shaggy hairstyles are versatile enough to suit any occasion – from casual outings to formal events. You'll always look fashionable and put-together.
Now that you've explored the benefits of a short shaggy haircut, let's move on to medium-length hairstyles for fine hair.
Source: (latest-hairstyles.com)
Bang Style
If you're looking for a way to add volume and texture to your locks without sacrificing length, bangs are an ideal way to go. Side-swept bangs will create a definition around the face while also framing it in a flattering way. Bangs are a great way to add volume and definition to fine hair.
For women with thin, dark roots, bangs can create the illusion of thicker locks while also framing the face in a flattering way. Blunt bangs are an excellent choice for those who want to add some texture and structure to their look.
By cutting the bangs straight across, you will be able to bring out the best in your fine hair. This style will draw attention to the eyes while still keeping your hair looking light and airy.
The bangs frame the face perfectly and help create a nice balance between the top and sides of the head, giving it a fuller appearance. To get this look, start by cutting your bangs straight across at the desired length (anywhere from just below your eyebrows to your cheekbones).
After the bangs are cut, blow dry your hair using a round brush to create volume and body. Use a light mousse throughout the rest of your hair for extra hold and lift at your roots. Finally, use a flat iron to add texture and definition by turning the ends slightly under.
Medium Length Hairstyles for Fine Hair
Try out a medium-length hairstyle for your fine hair to achieve a versatile and chic look that suits any occasion. Face-framing layers are perfect for adding dimension and movement to straight hair, giving the illusion of fuller locks. Adding highlights can also create depth and make your hair appear thicker.
For a trendy touch, consider trying curtain bangs or wispy bangs, which can help soften your features and give you a youthful appearance. Subtle layers throughout the length of your hair can add volume and body without sacrificing too much length.
This medium haircut style works particularly well for those with shorter hair who want to create the illusion of voluminous locks.
Transitioning into beachy waves for fine hair, you can easily achieve this look by using a curling iron or sea salt spray to add texture and movement to your medium-length locks. The combination of tousled waves and face-framing layers will give you an effortlessly cool vibe that is perfect for casual outings or even formal events.
Beachy Waves for Fine Hair
Transform your fine hair into mesmerizing ocean beachy waves that will transport you to a tranquil seaside escape. When it comes to hairstyles for women with fine hair, beachy waves are the perfect choice. Not only do they add texture and volume, but they also create the illusion of thickness and fullness.
To achieve this look, start by applying a texture spray or thickening spray to damp, wet hair. These products will give your locks some extra grip and hold for those soft waves to last all day long.
Once you've applied the product, use a curling iron or wand to create loose, natural-looking waves. Don't worry about making them too perfect; the key is to embrace your hair's natural texture and movement. To enhance volume even further, try using volumizing sprays or powders at the roots.
Beachy waves for fine natural hair are all about creating effortless beauty. With a few simple steps and the right products, you can transform your limp locks into gorgeous tousled waves that exude confidence and style.
Source: (instyle.com)
Updos and Ponytails for Fine Hair
Updos and ponytails can be a game-changer for those with limp strands. One excellent option is sporting blunt bangs with an updo or ponytail. This chic look adds structure to your face while giving your hair a sophisticated touch.
Another perfect option is to embrace messy hairstyles with effortless waves. By using texturizing spray, you can easily add volume and texture, making your hairstyle look trendy and full of life.
For medium-length hairstyles, consider adding layers to give your hair more dimension and movement when styling it up or in a ponytail. The key here is to create the illusion of thickness by strategically placing layers throughout your haircut.
Now that we've explored updos and ponytails for fine hair, let's move on to another essential aspect: adding texture and volume with hair products.
Adding Texture and Volume with Hair Products
Get ready to amp up your locks with some incredible texture and volume using the right hair products. One of the best ways to enhance the texture of fine hair is by using curl-enhancing products.
Apply a mousse or a curl cream on damp hair and scrunch it gently for natural-looking curls or waves. This will give your hair an instant body and create the optical illusion of thicker, fuller locks.
Another great trick is to use invisible layers. These layers are cut in a way that adds movement and volume without sacrificing length. They create depth and dimension in your hairstyle, making it appear more voluminous.
To finish off your look, add some shine spray for a glossy finish. This will make your hair look healthier and help reflect light, giving the illusion of thicker-looking hair.
So if you're tired of dealing with flat, boring hair, try these tips to add texture and volume to your hairstyle. Embrace those loose waves or curly tendrils and rock a fuller hairstyle that will make heads turn wherever you go!
Frequently Asked Questions for Womens Hairstyles for Fine Hair
What are some recommended hair care products for fine hair?
To care for your fine hair, try using volumizing shampoos and conditioners that add body. Lightweight styling products like mousses or sprays can provide lift without weighing it down. Regular trims will help maintain healthy locks.
How can I make my fine hair look thicker and fuller?
To make your fine hair look thicker and fuller, try using styling options like a root lift spray or mousse. Blow drying with a round brush can add volume as well.
Consider getting layers or trying a textured bob for added body and movement. Also, consider putting in some mixed highlights, or maybe even blonde highlights if you have brunette hair or darker hair colors.
Are there any specific hairstyles that should be avoided for fine hair?
Avoid hairstyles that require a lot of teasing or backcombing, as this can damage fine hair. Instead, opt for styles that add volume and texture, like layered cuts or soft waves.
Can I still have long hair if I have fine hair?
Yes, you can still have long hair if you have fine hair. Adding layers and volume to your hair can give it a fuller appearance. Regular trims and using the right products will help maintain its health.
Are there any tips for maintaining the health of fine hair?
To maintain the health of your fine hair, use a gentle shampoo and conditioner, avoid excessive heat styling, and protect it from sun damage. Regular trims can also help prevent split ends and keep your hair looking its best.
Conclusion
So there you have it! You've learned about the best women's hairstyles for fine hair. Whether you prefer a pixie cut, bob, layered haircut, or short shaggy style, there are plenty of options to choose from that will add volume and texture to your hair.
Additionally, if you're looking for a medium-length hairstyle, beachy waves, or an updo/ponytail, there are also great choices available that will suit your fine hair.
And here's an interesting statistic for you: Did you know that approximately 40% of women worldwide have fine hair? This goes to show that you're not alone in dealing with fine locks.
So go ahead and rock your fabulous new hairstyle with confidence. Embrace the beauty of your fine locks and show the world just how stunning they can be.