One of the things that are important to many women is to look their best. It doesn't matter if it is the way they dress or the makeup they wear, it focuses on the way they look and that all-important first impression. One other option that is vitally important as far as looks are concerned is tied up in the hair. In fact, choosing the best hair styles for women is going to make a difference in the way they look and the way they feel about themselves. The following can act as a guide to help make the right choice.
Consider Face Shape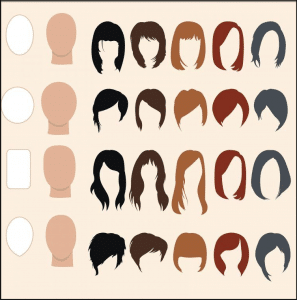 One of the most important factors for choosing the proper hair style is to consider the shape of the face. In some cases, it can provide very specific options. Not only can those options make a difference in how good someone looks with their new hairstyle, it can also keep them from making a very common mistake.
Typically, most women will fall into one of a few different face shapes, including round, long, heart, oval and others. Although there may be instances in which some women look great with any hair style for their shape face, that isn't always the case. That is why the next suggestion is so important.
Look at Plenty of Examples
There is something that you will find in almost any beauty salon; books of hair styles. These are there for more than just something to pass the time while someone else is having their hair done. They are a guide to help with that all important decision of what are the perfect hair styles for women. Most women will be able to find someone a face and coloring similar to them, so it acts as a general guide.
Software
There are a variety of programs available that can take any face and put a hair style on it. It is a great way to get a better idea of how the style will work and some of those programs are very accurate when they do so. There are programs available online or for download to a desktop computer. In addition, you can download them to a smartphone and take a selfie to add some hair to it. It is quick, easy and quite enlightening.
Ask Someone Who Knows
The women who are responsible for styling hair at the beauty salons are also often quite knowledgeable about what type of hair style will look right on which women. This is not something that should be underestimated. They can often provide some professional advice and, since they will be doing the style, they know their name is on the line.
When it comes to hair styles, there really aren't any hard and fast rules. It really depends on what the person who is going to live with the style wants. If they are happy with the finished result, then it is the best hair style for them.